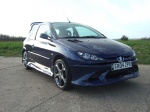 &lt Back to Current Vehicle List
2004 Peugeot 206
This was my first nice car!! Spent a fortune on it!! Worth every penny!! Loved it!!
---
2004 Peugeot 206
1.4l 'S'
Metalic Blue
Lovely car!
I still say Pug 206's are great cars handleing wise!!
They perform great when you need it most and they stick to the road like glue!!
Features;

Body Kit
(Rare kit fom Germany)

Spoiler
(WRC Spoiler)
18" Wolfrace Alloys
(Shadow Chrome Matrix Edition)
Blue Neons Everywhere
All neons controled by home made system out of aircraft parts!
(See picture below)
Clifford Alarm
Included remote engine start and neon control
(Very cool gadget!!)
Sound System
2 Sony Xplod Amps
2 Top of the range Pioneer 5" Front door speakers
2 JBL 6x9's on the parcel shelf
And as you can see, monstrous collection of Subs!
= POWERFUL SOUND SYSTEM!!