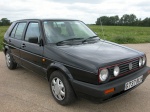 &lt Back to Current Vehicle List
1990 Volkswagon Golf
Nice car! First Golf i've had, shame it was Auto!! But with a 1.8 engine, it still flew!!!!!
---
1990 Volkswagon Golf
GL 1.8 AUTO
Black
This was a real pleasure when i cam across this car!
Always liked Golf's, they're a very popular car,

And now i know why!!

It was a 1.8l Automatic.
But believe it or not once i got the hang of it,

It turned out to be a very powerful little car!!
The auto gearbox can be used in the drivers favour!

It was a 1990 MkII.
Previous owner had fitted a new GTi front grill!
(Extra lights included +working)

Great Car!

Pleasure to drive!

So always looking for another Golf!