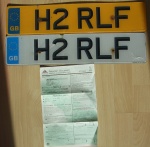 &lt Back to Current Vehicle List
Licence Plate - H2 RLF
On Retention Cert and ready to go!
---
This sale is for a personalized number plate.

H2 RLF

This plate is on Retention and ready to go!!

I also have the original plates to be included in the sale!!

"RegTransfers" say this plate is worth £800 to £900
"123-reg" say its worth £750 to £800

So i'm asking - £550!!


Payment can be made via cheque as its a large amount.
But obviously it'll need to clear first.
Plates Included

The original plates are included, although there is a crack on one, as you can see.

On Retention Certificate!!

So ready to be transfered, no waiting for it to leave a vechile first!!