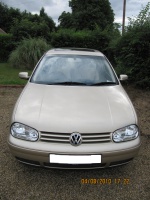 £3,800
&lt Back to Current Vehicle List
2002 Volkswagen Golf GT TDI
This is the 130 3dr edition
---
Volkswagen Golf 3dr GT TDI
Central Locking
Immobilizer
172188 miles
MoT - May 2011
Tax - Sorn
Has high mileage because it was owned by Volkswagen Rep, so well looked after by main dealer.
I've had it 2 years and always been brilliant.
I wanted to sell with tax but as not renewed insurance not allowed.
So i've reduced price to allow for tax to be added.
Will put on auto trader/ebay asap.
But if interested please contact me as happy to end advert early!!
Very fast and very cheap to run as its the 130 gt tdi!!