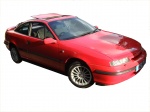 &lt Back to Current Vehicle List
1990 Vauxhall Calibra
SOLD FOR SPARES OR REPAIR
---
1990 Vauxhall Calibra
2.0L 16v
Spares/Repair
Could be used as track car, certainly fast enough!
Or with some work put back on the road.
Was running great a year ago, but sat since then.
Tried to start today, but not having it.
Reckon its probably an ingnition problem.
So will need to be trailered away!!
Please don't bid if you don't have a transport method!!!!!!
(Will probably break for parts if no sale!)